Elegant outdoor luminaire with superior visual comfort for cities people love to live in
Description
The ZELA urban luminaire provides a cost-effective lighting solution to enhance urban spaces and make citizens feel good. It emits a pleasant, low glare light, making it the perfect luminaire for architectural public spaces.
Combining visual comfort and performance, it ensures safety and well-being in public spaces in the most sustainable way. With its elegant design, this outdoor LED luminaire is a distinctive tool to create attractive urban centres, squares, parks, residential streets and bike paths.
The elegant design of the ZELA urban luminaire helps create attractive public spaces.
ZELA blends into all urban environments where its fluid design and warm light create a pleasant ambiance both by day and by night.
Providing an indirect lighting, ZELA emits a pleasant, low glare light, making it the perfect luminaire for towns and cities so that pedestrians, cyclists and drivers enjoy superior visual comfort in outdoor environments.
ZELA is available with symmetrical and asymmetrical light distributions to meet the requirements of numerous urban areas.
ZELA is designed for slip-over mounting on a Ø76mm spigot.
A sustainable and FutureProof choice
Using state-of-the-art LED technology, ZELA is an energy-efficient solution with a long lifespan. The energy savings can be further extended by adding dimming options.
ZELA has been designed to respect the key principles of circular economy, as both the LED unit and the electronic assembly can be replaced to give a second life to this urban luminaire.
Characteristics
General Information
Recommended installation height (m)
Compliance
Electrical information
Electrical class
Nominal voltage
Power factor (at full load)
Performance
Luminaire output flux (lm)
Luminaire efficacy - up to (lm/W)
Optical information
LED colour temperature
Colour rendering index (CRI)
Housing and finish
Housing
Top cover - Acrylonitrile styrene acrylate (ASA), Base and gear plate - Marine grade high-pressure die-cast aluminium (EN 1706 AC-44300)
Protector
High-impact acrylic, Polycarbonate (optional)
Tightness level
Lifetime
All configurations
Operating conditions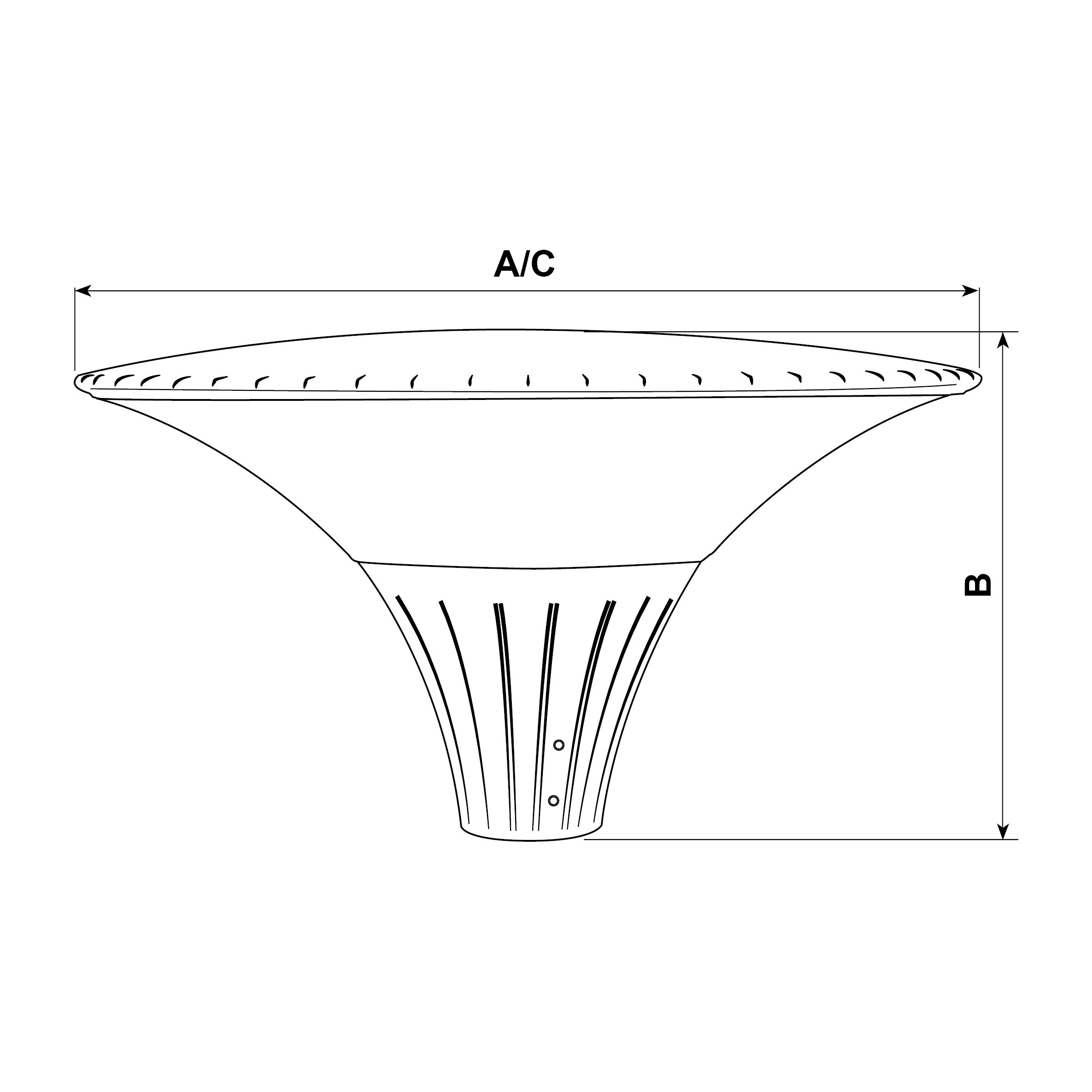 Dimensions and mounting
AxBxC (mm | inch)
578x324x578 | 22.8x12.8x22.8
Installation and Maintenance
The ZELA luminaire offers slip-over mounting onto a Ø76mm pole by tightening 6 screws.